Charlotte, NC Hair Transplant Surgeon – Dr. Bruce Marko created the trademarked MAX DENSITY® hair restoration procedure.  After more than 18 years in the industry, he decided he is going to make a difference and give patients what they really want … as much hair as possible in ONE PROCEDURE.
With MAX DENSITY®, Dr. Marko analyzes your scalp, 'measures and decides what you need' and then performs a MAX DENSITY® procedure to give you as much hair as possible. The procedure is based on 'your' need… 'your' donor area … and 'your' scalp elasticity.
Following the harvest of your donor tissue, it is meticulously dissected under microscopes and artistically transplanted to give you the maximum coverage possible in your thinning or bald areas. MAX DENSITY® offers more hair in ONE PROCEDURE when compared to the typical 'Pay-By-The-Graft' hair transplant surgery. You will spend less time in the surgery chair, you will heal more quickly, and you will have MORE DENSITY with natural looking result!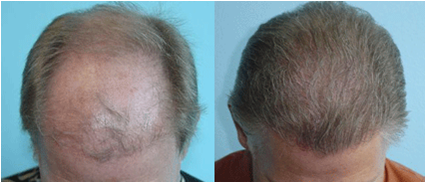 UNDETECTABLE SCAR
Do you see the 'very fine line scar' located in the middle of the sutures (stitches)? It's barely visible.
Contact Us NOW!
If you want to grow your hair back, please call our Charlotte office at (704) 770-5715. You can also send an e-mail to alicia@advancedhairtransplants.com and he will get back to you ASAP. Lee is available 7 days a week.